Frequently asked questions
How much does it cost for a clean?
---
To make sure ​that each of our customers receive the absolute best possible value for money, we have differing hourly costs depending on customer requirements. For anyone looking for regular weekly or fortnightly cleaning, we offer an hourly rate of £13.95. There are some minimum requirements: minimum 2 hours cleaning per week for a minimum of 12 weeks. ​ Our pay as you go cleaning is only £14.95 per hour. This rate has been carefully calculated to ensure our customers receive the absolute best possible value for their money. As with all of our hourly rates, at least 2 hours of cleaning is our minimum requirement for booking. ​ Our specialist/deep cleaning rate applies to any deep cleaning requirements such as seasonal cleans, end of tenancy cleans, move in cleans, appliance cleaning or any cleaning requirements deemed to be of a specialist nature. This rate would also apply to most office cleaning services. Our hourly rate for specialist is £15.95
---
How do I pay?
---
We accept all major credit and debit cards either via the payment portal on our website or by chip and pin on the day of your clean. If you would like to pay via Paypal, send payment to weclean@miracle-maid.com with your postcode as reference. ​ We will accept cash on the day of your clean but would prefer to avoid handling cash. ​ If you would prefer a bank transfer, please contact us for our bank details.
---
When do I pay?
---
Payments must be made prior to any cleaning service commencing. We are flexible on how payment can be made but all payments strictly must be cleared before any work is carried out.
---
Who supplies the cleaning materials?
---
You supply the cleaning materials. Our cleaner will use your materials and equipment. We work this way to ensure that only products you choose are used in your home. It's also much more hygienic to use equipment already in the home and of course it also keeps the cost of the service down. ​ Please ensure you have a good supply of materials for our cleaner to use and they know where to find the vacuum etc. ​ We would recommend the following: Microfibre cloths, a general use disinfectant of your choice, glass cleaner and a toilet cleaner if applicable. ​ If you are looking for fragranced disinfectants, we would highly recommend the following; ​ www.cleaningmaideasyni.co.uk www.myfabulosa.co.uk
---
What if I'm not happy with the clean?
---
In the unlikely event that you are unhappy you must contact us immediately, either by email at, weclean@miracle-maid.com or calling us on 01779 400442. We take any complaints very seriously and aim to have an area service manager visit your home the same day where possible. Any complaints deemed reasonable will be rectified within 24 hours.
---
How many hours do I need?
---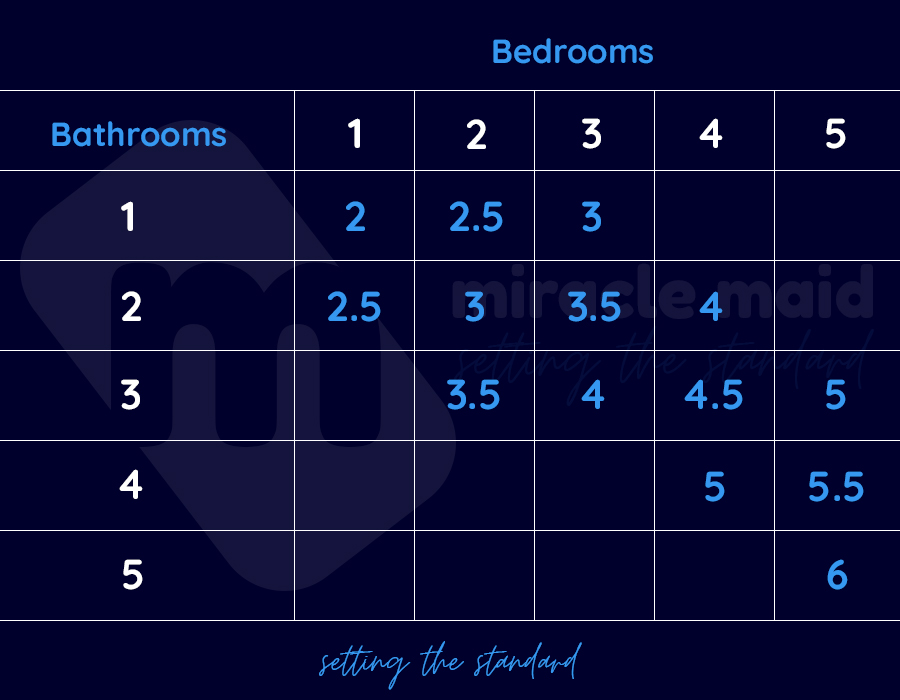 It depends on the size of your home, how many rooms and how much is in them, plus the quality and depth of cleaning that you require. Ultimately the choice is yours, and you may want fewer or more hours and then prioritise the rooms and jobs to be completed. Here is a general guide for various property sizes:
---
Do I have to be at home when my cleaner visits?
---
No, our cleaners are vetted and are happy to hold your house keys. We will provide you with a Key Acknowledgement Form for your cleaner to sign.
---
---